Big Dreams From A Single Plate: Dahmakan's CEO On Managing Uncertainty In A Startup
Dahmakan's beginnings were tumultuous at best. Yet, the shaky initial stages of offering a one-dish menu soon gave way to a rapidly-expanding healthy food delivery service that now uses an AI-controlled logistics system.
dahmakan
co-founder and CEO Jonathan Weins revisits dahmakan's evolution from an idea to a reality - and the sheer tenacity that connected the two.
1/6 Hungry minds think alike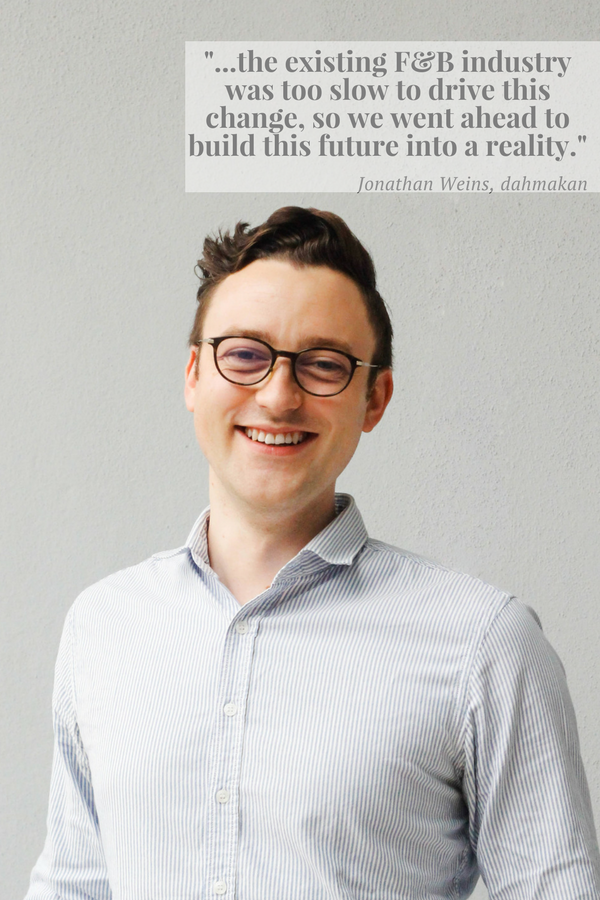 In the pre-dahmakan food scene, a lack of choices offering affordable quality food as a daily convenience caught the attention of several young entrepreneurs.
"Starting dahmakan was motivated by a change in the world that we wanted to see for ourselves and our friends: making high quality food as convenient and affordable as possible. We felt the existing F&B industry was too slow to drive this change, so we went ahead to build this future into a reality."
Read also: 6 Questions That Keep Entrepreneur Fadza Anuar Awake At Night
2/6 Using uncertainty as an advantage
Service-wise, what did dahmakan look like in 2014 when it first came into existence?
"We started off with only a single dish on the menu; and you had to order three days in advance - seriously!" Jonathan explains.
"Of course, this was not convenient, but it allowed us at a small scale to offer massive value to customers for the price they paid, along with free delivery without any minimum order."
3/6 Make or break moments are the defining ones
Taking the leap of faith when confidence was no ally: it was a testing feat the dahmakan team braved on more than one occasion.
"At the start, none of us knew if it would work out or if we would be packing our bags in a few months. Ultimately, I chose to have faith in the team, our business model, and our understanding of the local market." Jonathan says.
Read also: Muhammad Iqbal Ameer On Getting Through The FMFA 2014 Crisis
4/6 Going from paper to plate
Formerly a member of the Hong-Kong team that launched the FoodPanda online food delivery concept, Jonathan was used to a hands-on approach for turning great ideas into marketable solutions.
"A solid idea is not enough. You need to be able to anticipate customers' needs and wants ahead of time and deliver what they want, when they want it, where they want it." Jonathan says.
5/6 Method to the madness
According to Jonathan, one of the critical decisions to make in running a business like dahmakan was whether certain operations should be out-sourced or done in-house.
"Within the first year, we realised that in order to provide the best possible customer experience, we needed to own all aspects of it. Now everything is in-house, right from delivery to food production."
If it sounds more complicated, that's because it is. But greater control over the core business processes meant being able to control and deliver the best possible experience for customers.
Read also: Dexter Lau Reveals 4 Crucial Aspects Of Working In A Family Business
6/6 From one dish wonder to an automated menu
As dahmakan grew, so did the need to scale up operations. What was the tech-oriented solution to all these growing pains? An AI-driven logistics system, as it turned out.
"Now that we have reached a much larger scale and built our technology in-house (AI-driven logistics system), this has allowed us to now offer a daily changing menu with 8 dishes and customers can now order up to 45 minutes prior to their desired delivery time." Jonathan says.