10 Female Entrepreneurs In Hong Kong You Need To Know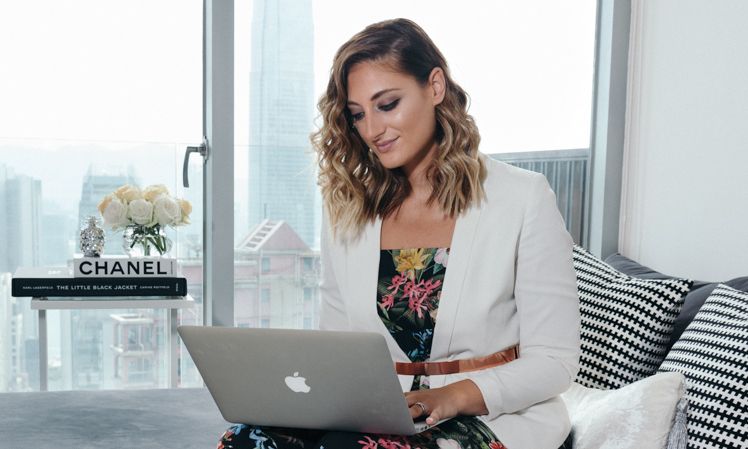 Hong Kong has a long history of entrepreneurship, with new businesses—both online and offline—opening every day. Not only does the city offer famously seamless set-up and logistics, but it's also home to a growing lineup of co-working spaces, innovation labs, kickstarters and incubators.
The city has also proved to be a healthy market for female entrepreneurs. Women account for 45 percent of the entrepreneurial community in Hong Kong, compared with a global average of 37 percent, according to a 2015 "Global Entrepreneurialism Report" by BNP Paribas.
See also: The 2017 Generation T List
From eco warriors to tech wizards, we've caught up with a few of the city's most ambitious girl bosses to hear about their projects, achievements, and thoughts on business in Hong Kong. 
1/10 Ines Gafsi and Anna Wong
Co-founders of Female Entrepreneurs Worldwide (FEW), Ines Gafsi and Anna Wong never stop hustling. Not only have they built a community of more than 3,000 women, but they also lead conferences and insightful events in Hong Kong, Shanghai, Singapore and more.
The team is launching a new app, coming this fall, as well as a series of in-person events to connect and inspire female entrepreneurs. "Women are very supportive to each other and we see a lot of collaborations born out of meetings that happen at our events or from business referrals we make," says Gafsi.
"Over the past few years, Hong Kong has seen more micro funds for startup entrepreneurs, affordable co-working spaces and more resources available to grow their businesses."
2/10 Lindsay Jang
Originally from Canada, Jang kicked off her hospitality career in North America, before moving to Hong Kong in 2009. Since then, she has been working with Chef Matt Abergel in the restaurant business, cultivating concepts and menus that people can't seem to get enough of.
On our 2017 Generation T list, Jang is behind beloved restaurants RŌNIN, Yardbird and Sunday's Grocery in Hong Kong—as well as media platform and private label MISSBISH, which will be launching its first apparel line this fall.
See also: A Day In The Life Of Lindsay Jang
"It's not always easy, but it's always worth the ups and downs when you get to see your business babies grow and flourish!" says Jang. "If you have a quality product or idea and a solid team, the sky's the limit."
3/10 Christina Dean
An author, journalist, documentarian, TEDx presenter, and former dentist, Dr. Christina Dean is a jane of all trades. To curb wasteful practices in the fashion industry—one of the world's top global polluters—Dean launched Redress in 2007. The NGO has since become one of the most influential forces in spreading awareness and reducing waste in the fashion industry.
Earlier this year, she launched BYT, with Michelle Bang. The socially conscious fashion brand upcycles fashion waste, spinning them into designer collections. The first collection is launching this September on BYT's e-commerce platform.
See also: 8 Eco-chic Designers That Are Changing The Industry
"I've learned that one's 'job' needs to be at one with who you are," says Dean, who is on our 2017 Generation T list. "I have Redress and BYT in my blood and I am 'me' when I pursue the challenges that come with them."
4/10 Diane Younes
The woman behind Sponge—an on-demand beauty service—created the business during her first year in Hong Kong. From idea to implementation, the process took Younes about four months—a testament to her work ethic and clear vision. A corporate lawyer-turned-entrepreneur, Younes saw a hole in the market, and filled it.
"Women today are busy with work, family and life in general," says Younes. "So our goal is to make women's lives easier by bringing their beauty routine to their doorstep in just a few clicks."
"Our clients can catch up on emails, spend more time with their children or even sip a cocktail in front of their favourite movie while they get pampered by professionals in their home or whatever location they choose. What's not to love?"
5/10 Maxine Ryan 
Hong Kong born-and-bred Maxine Ryan is killing it in the male-dominated Fintech (financial and technology) field. She launched Bitspark—a cryptocurrency​ remittance solution for businesses—three years ago.
The smart cloud-based platform ​and mobile app​ enables companies and individuals to send, manage, and receive payments around the world, at significantly lower exchange rates than you'd see from traditional money transfer operators.
"Fintech is the merging between two industries that will have the largest impact to society in the present and future," says Ryan. "But most importantly it has the ability to improve existing financial infrastructures in terms of accessibility."
6/10 Charlotte Chen
A serial entrepreneur, Charlotte Chen is behind a long list of apps and services. Her impressive CV includes Spottly travel app and guides, as well as Empyr+co boutique marketing consultancy, XGD Media advertising innovation consultancy, and soon-to-launch Everyday all-natural personal care products.
"Hong Kong is perhaps one of the most efficient cities in the world," says Chen. "The pace and speed is unbeatable—from opening a bank account to printing marketing collaterals. I can't name another city that can get things done as fast and easy as Hong Kong."
While she's launching companies left and right, Chen continues to be among Asia's top fashion and travel influences on Instagram—with more than 17,000 followers and a long list of high-profile collaborations, including the likes of Louis Vuitton and Chanel.
7/10 Elaine Tsung
Tsung got her first taste of entrepreneurship with European Gourmet, a confectionery import company. And she hasn't stopped hustling since. You can thank Tsung for the city's evolving co-working scene: She initiated a handful of spaces, including The Hive, Garage Society and Eaton House—her latest project.
See also: 5 Best Co-working Spaces In Hong Kong
"With Eaton House, we want to create a new work platform for the new generation workers," says Tsung. "Not only do we offer work space, we also offer all the extra support that businesses need to get started and grow."
8/10 Abby Zhang
Abby Zhang made the Forbes 30 under 30 list this year—having taken the Hong Kong retail world by storm when she launched YEECHOO (meaning "closet" in Putonghua and "You Choose" in English) with business partner Shan Shan in 2014.
Zhang brought the rent-a-designer concept to the city, offering the likes of Halston Heritage, Self Portrait, Alice+Olivia and Marchesa online. YEECHOO not only saves women bundles on designer clothes that they might only wear once, but also frees up valuable space in cramped Hong Kong closets.
"The Hong Kong startup community is very resourceful, and people are very willing to share and connect, which I am truly grateful about," says Zhang. "Starting a business for the first time is challenging, but you learn so much from talking to people who have been in your shoes before."
9/10 Yosha Gupta
A FinTech expert and established entrepreneur, Gupta is behind LafaLafa—a coupons and cashback website that has more than 1 million downloads in India. Splitting her time between Hong Kong and India, Gupta found inspiration for a new brand.
This year, she launched Meraki, an online shopping site that specialises in hand-painted leather bags—on a mission to elevate Indian heritage and empower artisans.
"What I love the most about this city is that everyone is an entrepreneur at heart!" says Gupta. "Even if someone is in a full-time job, they'll have a side gig going on and the 'hustle' and determination to be successful is infectious."
10/10 Elissa James
If you've ever Googled "gender parity," or "work-life balance"... then you might have come across IrisLillian.com. The Hong Kong-based webzine offers a mix of candid interviews, life hacks, and fashion advice—aiming to be a go-to platform for ambitious, stylish women.
The brains behind the site? Australian Elissa James, a senior corporate lawyer, who named the company after her grandmother.
See also: Meet 2017's Women Of Hope Nominees
"Entrepreneurship and innovation has long been the lifeblood of Hong Kong," says James. "In a city of unique cultural and philosophical diversity, opportunities abound. If you have a great idea and you're willing to roll up your sleeves and work for it, you will succeed."