These Chinese Startups Are Using AI To Transform Healthcare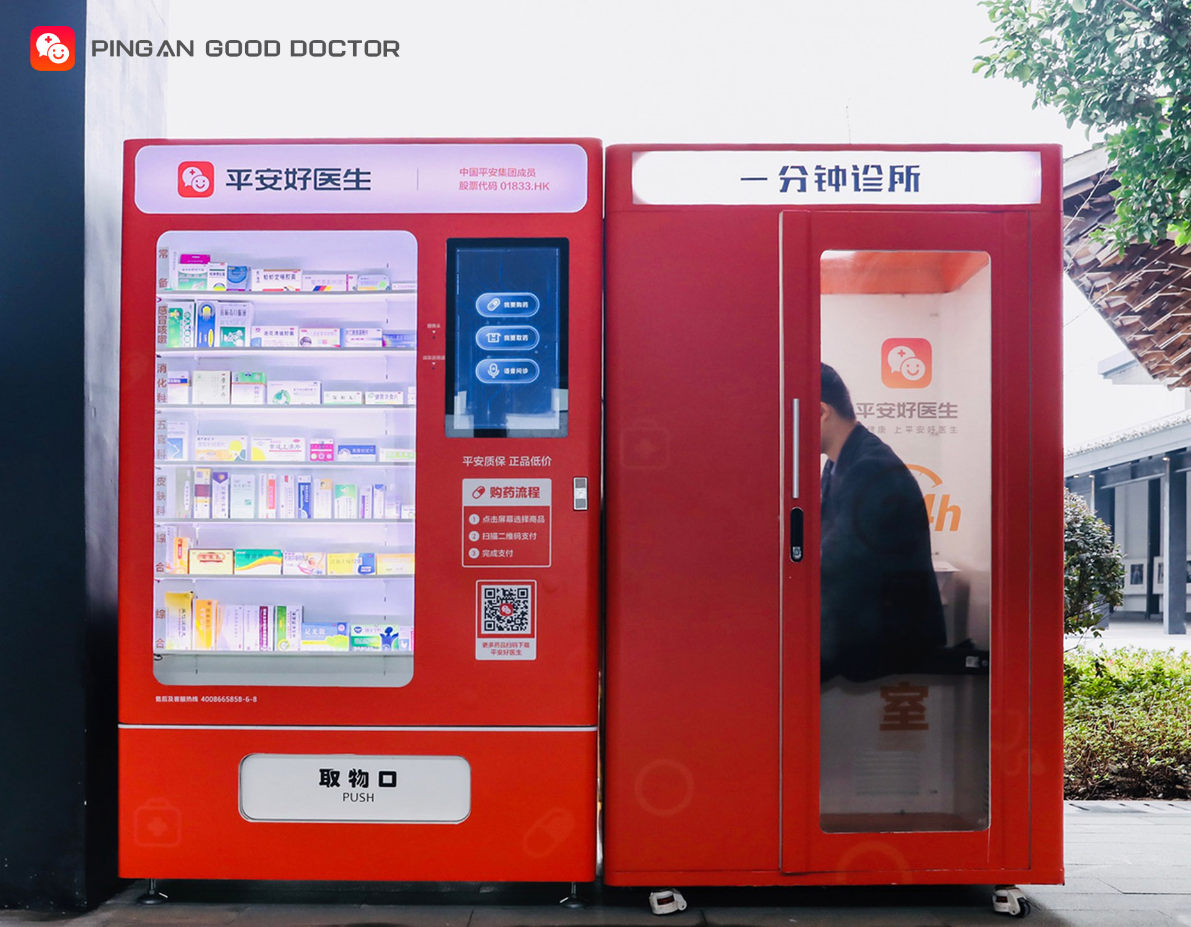 A red roadside booth might seem reminiscent of London's iconic phone boxes, but in a satellite city of Shanghai they are a symbol of the future. Generation T looks at this revolutionary "clinic" and other AI innovations that are changing the face of healthcare in China
Early in November last year, the world's first AI-powered healthcare clinic was unveiled at the World Internet Conference in Wuzhen, 130km west of Shanghai. This three-metre-squared box, dubbed One-minute Clinic, is part of a growing trend in China to use AI to accelerate healthcare and streamline the number of human medical professionals needed to serve the population.
Using AI to reduce the demand for doctors
The concept of the unmanned clinic is simple: patients simply walk into the booth, input their medical history and symptoms, and an AI-powered computing system will offer diagnoses and treatment plans, with over 100 common medicines available to buy from the adjacent vending machine.
Although human doctors review the medical advice and a first-time patient will receive a follow-up visit from a walking, talking physician, the One-minute Clinics are mostly an experience devoid of human interaction. The company claims that the AI has been trained using data from more than 300 million real-life medical appointments. It plans to roll out 1,000 of these clinics across China by the end of this year, and also has wider plans for One-hour Drug Delivery to tackle the problem of supplying hard-to-reach locations with hard-to-find medicines.
The robot clinic might seem like a gimmick, ripe as it is for satire about the bowdlerisation of even the simplest "hello, how are you?" from our daily communications, but Ping An Good Doctor, the company behind One-minute Clinic, believes that this kind of innovation represents the future of healthcare in a country beleaguered by a doctor shortage, an ageing population and an increase in chronic diseases such as diabetes.
A 2016 World Health Organisation report noted that, according to a 2010 study, only almost 26 percent of people with diabetes in China were receiving treatment for their condition. The report emphasised the need for "building stronger primary and community health care services" as part of the solution to this problem, a solution that Ping An Good Doctor wants to be part of. Their mission is "to build the largest healthcare ecosystem in the world" and "to create an e-health profile and a health management plan for everyone."
The medical AI industry is set to reach a valuation of RMB20 billion (HK$22.7 billion) by the end of this year
The parent company, Ping An, a Shenzhen-based insurance firm, is making headway in a space that is fast gaining traction in China. The medical AI industry is set to reach a valuation of RMB20 billion (HK$22.7 billion) by the end of this year, according to China Daily. Speaking to the state-run newspaper, Xie Guotong, chief healthcare scientist at Ping An, said: "AI is expanding at an exponential rate... When you combine AI with the nation's trillion-dollar healthcare sector, especially healthcare at the primary (smaller, local-scale) level, there are infinite possibilities."
Indeed, China's State Council's 2017 report, entitled "Development Plan on the New Generation of Artificial Intelligence," mentioned healthcare as one of the most important use cases. This was followed up in 2018 by a more detailed publication, the "Guideline to promote the development of healthcare big data."
Using AI to spot things that doctors might not
Ping An is not alone in innovating in this arena. Beijing-based start-up PereDoc has developed AI software that can parse CT scans and identify potential nodules, particularly in the case of lung scans. As of October 2018, more than 200 hospitals in China were using the technology, which PereDoc says has an accuracy rate of 94.9 to 99.7 percent, depending on the size of the nodule.
For Ms Zhang, 41, who had surgery for breast cancer a year and a half ago, discovering that potentially cancerous cells had spread to her lungs was particularly worrying. Dr Wei Bo, a chest specialist at Beijing Shijitan Hospital used PereDoc's software to find five potential nodules, when he had only spotted three. With his colleagues, he studied the nodules before concluding that they were benign, giving her the all clear.
This is especially needed in rural areas, where there are even fewer doctors than the national average of 1.5 per thousand people
Using AI to assist overworked doctors
The trend for using AI in healthcare is by no means limited to grave scenarios such as diabetes and cancer. WeDoctor, a subsidiary of tech giant Tencent, which is also responsible for the ubiquitous messaging app WeChat, wants to improve primary healthcare by providing doctors with AI systems that can help them understand patients' symptoms and suggest diagnoses and treatment plans.
This is especially needed in rural areas, where there are even fewer doctors than the national average of 1.5 per thousand people. As well as a database of more than 2,000 Western treatment plans, WeDoctor has also developed the Xuanhutai system for TCM treatments, popular in the rural areas where this kind of technology is most needed and where Western medicine can still be regarded with suspicion.
At present, WeDoctor has connections with more than 2,700 hospitals in China. The arrangements are made through contracts with local governments, who also have access to the biodata that WeDoctor collects on citizens through its services. The Chinese law offers scant protection for individuals' data against government collection but it is required that the data stays within China's borders.
That hasn't stopped foreign companies trying to get a slice of the pie, however. Earlier this year, UK health-tech company Medopad signed 15 trade deals with Chinese counterparts, including Tencent and Ping An. The purpose of these deals was to "advance the use of artificial intelligence (AI) in healthcare platforms for research impact and clinical decision support." Dan Vahdat, CEO of Medopad, said that these deals put Medopad "at the forefront of solving [the problem of managing population health] and supporting people around the world."
Managing population health is an issue that China, the world's most populous nation, is being forced to confront. Considering the government's broader aims in artificial intelligence, which state that it hopes China will be a world leader by 2030, it is perhaps no surprise that the intersection of healthcare and AI is becoming a booming industry in itself. The ever-diminishing sphere of human interaction may just end up being collateral damage in the race for progress.